Combat Corner Professionals Have a Good Outing at Madtown Throwdown
Photos Courtesy of Tasha Howe
On Saturday August 11th the Alliant Energy Center played host to Madtown Throwdown "Hells Bells" which featured some of Wisconsin's top amateurs and professionals showcasing their skills in the cage. Thanks to Josh Sterry of Madtown Throwdown I was able to attend the event and watch Combat Corner Professional sponsored fighters Mike Rhodes, Robert Coulliard, Tyler Hellenbrand, and Andrew Trace put on a show for the fans.
Mike Rhodes representing Roufusport gym took on Torrey Berendes in a catch weight bout as Berendes failed to make weight, a move that seemed to further motivate Rhodes to finish his opponent in a hurry. Rhodes came out swinging and landed a few punches early. Berendes tried to retaliate but the crafty Rhodes made him miss badly. Rhodes threw a head kick that missed the mark but secured a takedown where he then mounted Berrendes and started landing some brutal ground and pound and knocks Berrendes out in the very  first round.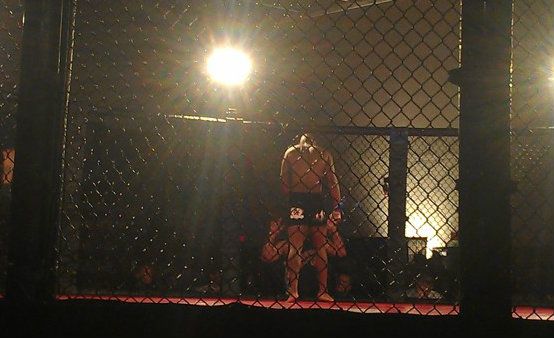 (Rhodes receives last minute instruction from Duke Roufus)
Robert Couillard of Pura Vida BJJ took on Dennis Anderson. After a brief feeling out process and a few strikes thrown from both competitors, Couillard showed off some of his skill working in the clinch and landing a few knees before Anderson got the takedown. Couillard displays his Jiu-Jitsu skills and sinks in a triangle choke that forces Anderson to tapout in round one.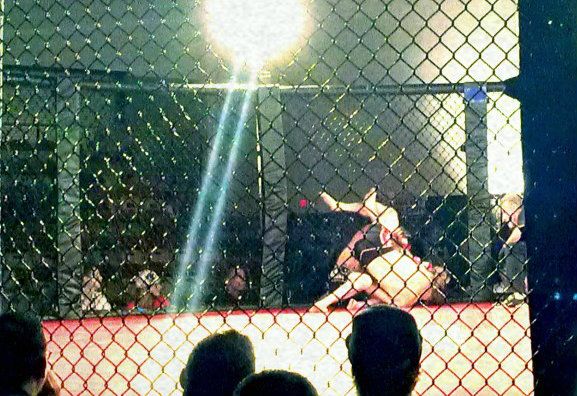 (Couillard sinks in the triangle choke to force Anderson to tap)
In the co-main event of the evening Tyler Hellenbrand of Chosen Few gym took on Jimmy Kim. Kim got some early takedowns early but Hellenbrand popped back up each time. Kim forced Hellenbrand against the cage where Hellenbrand quickly escaped and landed a huge punch that dropped Kim, Hellenbrand started raining down some ground and pound that Kim somehow survived. Back on their feet Hellenbrand again threw a punch that dropped Kim and again Kim somehow survived some brutal ground and pound from Hellenbrand. After some work in the clinch Hellenbrand connected with a devastating uppercut that yet again dropped Kim and again Hellenbrand goes to work on some ground and pound but this time Kim isn't as fortunate and Hellenbrand picks up the TKO victory early in the first.
(Hellenbrand gets his hand raised in TKO over Kim)
In the main event of the evening Wisconsin's top welterweight Andrew Trace of team Ruff Dawg took on Steve Carl. Carl landed some big punches and took down Trace. Trace gave up his back and Carl sank in a rear naked choke forcing Trace to tapout in the first minute of the first round.
(Trace (Below) readies for war)